200HR YOGA TEACHER TRAINING IMMERSION
With Emma Warmington
November 3 - 29, 2019
JOIN US IN STUNNING COSTA RICA FOR A JUNGLE IMMERSION ON OUR 200HR YOGA TEACHER TRAINING.
OVERVIEW & CURRICULUM
This 4-week residential training at breathtaking jungle retreat, El Sabanero Eco Lodge, is led by Emma Warmington and supporting teachers.
There are 7 billion types of yoga in the world. We will help you find what is appropriate for you and train you to do the same for your students. Nothing is one size fits all; different periods in our lives require different practices and our training reflects that with both powerful, strengthening yang and deeply nurturing yin forms of yoga asana and other techniques so you have many tools to practice and share with your students. Our teachers pass forward the lineage of Krishnamacharya, Desikachar & Mark Whitwell and all asana practices have a strong focus on breath, felt sense awareness and safe structural alignment.
Our daily practice includes asana, pranayama, bandha & mantra. You will have anatomy & posture clinics twice per week with lots of opportunities for Q & A. We continuously coach you in clear, effective cueing so you can direct your classes in an articulate and effective way.
Consistent deep self-enquiry, philosophical discussion and encouragement to find the true power of your unique voice will help you connect deeply with yourself, each other and your students and give you the skills to weave meaningful themes through your classes.
As always with Jivani Yoga, teaching practicums begin in week one. You will be teaching your peers from the first few days of the training and you will be nurtured, guided & supported with useful feedback, encouragement and leadership skills that will steadily increase your self-confidence and empower you be a great teacher. We have a method, but there is nothing formulaic about the way we train our teachers. Each trainee receives individualized support that is dependent upon their particular needs. Upon graduation, you will be ready to start teaching in your community.
In addition to the standard requirements given by Yoga Alliance, you will learn a wide variety of tools and techniques to support your personal evolution. We will help you establish a personal practice that is appropriate for you and give you tools for conscious & compassionate communication, EFT, vocal empowerment and leadership skills that can bring transformation to all areas of your life.
If you are ready to embark on a truly extraordinary adventure of self-discovery, personal growth and profound transformation, this training is for you.
A required reading list and pre-training assignments will be presented upon registration. We would like trainees to have at least one year of regular yoga practice behind them to begin this training but trainees with less experience are still welcome to apply and their application will be considered on it's own merit.
Sample Schedule (Subject to change)
07.00 – 10.00 Morning Practice. Meditation, Mantra, Pranayama, Bandha, Asana
10.00 – 11.00 Breakfast & morning swim
11.00 – 13.00 Lectures, Theory, Methodology
13.00 – 16.00 Lunch, Reading, Homework, Integration
16.00 – 18.30 Afternoon Asana, Teaching Practice, Personal Development
We will meet some evenings for yin practice, kirtan, group meals and movies.
EL SABANERO ECO LODGE
Our venue for the training is the rustic and beautiful El Sabanero Eco Lodge near Tamarindo in north western Costa Rica (closest airport Liberia International). In a country of outstanding natural beauty, the lodge is nestled on a hillside overlooking the Cañafistula valley with lush tropical gardens, a large infinity pool gazing over the mountains and heavenly views from all the chalets.
We have multiple practice spaces and a beautiful airy restaurant to enjoy our meals together as well as plenty of hammocks and garden nooks to relax in. We are just 10 mins drive from 4 nearby beaches and there are endless outdoor adventures on offer from exploring the incredibly diverse wildlife and lush tropical rainforests to surfing, sea-kayaking, turtle nesting, horseriding and zip-lining through the jungle.
TUITION & MEAL PACKAGE RATES
ALL PRICES IN US$
COURSE TUITION FEE – $3500
Early Bird $3200 – Register with $800 deposit by 30th August 2019
Full Balance Due by 21st September 2019.
Accommodation & Meals Package
Triple Share Chalet – $1100
Twin Share Chalet – $1350
Single Chalet – $1950
Tuition & Accommodation Price includes:
Jivani Yoga Teacher Training Manual & certificate upon graduation
26 nights accommodation in either single, twin or triple share room
3 delicious vegetarian meals per day Monday to Friday & Sunday. Breakfast only on Saturday.
Wifi in the resort's public areas
Flights, international airport transfers, travel insurance and day trips are not included.
OPTIONAL (BUT HIGHLY RECOMMENDED) ADD-ON
2 nights at Tabacon Resort & Spa, Arenal, Costa Rica. 29th November – 1st December.
One of the most stunning places on God's green earth.  A luxury hot springs with 39° volcanic water running through upwards of 20 incredible pools for commune with nature, rest and integration.  We happened upon it by accident, and hope for it to become a regular feature on this training.  In 2017 every participant made the trip and absolutely loved it. The cost was approx $300 for 2 nights in a triple share.
When booking your place on the training, we will provide the latest updates on this add-on.
DEPOSIT & PAYMENT INFORMATION. TERMS & CONDITIONS.
If you are accepted onto the course, a non refundable deposit of USD$800 is required  to secure your place and your chosen accommodation option.
The full balance for tuition and accommodation is due by 21st September 2019.  We accept Transferwise, bank transfers and PayPal.
Payment plans are available upon request.
If you withdraw from the training for any reason on or before 30st August 2019 you will receive a refund of tuition fees minus the non-refundable deposit and all bank fees involved in the transactions. If you withdraw 31st August or after,  no refunds will be given. These cancellation conditions are strict, we highly recommend you purchase good travel insurance that will cover you for any losses incurred by unexpected illness, cancellation or curtailment.
GETTING THERE
The closest international airport is Liberia and transfers cost approx US$50.  San Jose International airport is 5 hours away by car and transfers can be arranged for approx US$200 for up to 4 people.  You can also fly with Nature Air from SJO to Tamarindo for approx US$100.
Instructor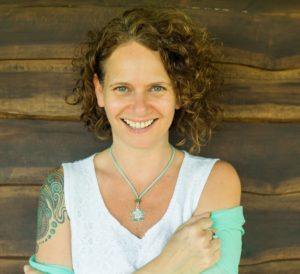 Emma Warmington
Emma is a Yoga Teacher Trainer, Transformational Voice Work Guide, Mindful Communication Coach and Women's Healing Arts Facilitator. If there is such a thing as a typical yoga teacher, Emma is not it. A fiery Celtic spirit with deep passion for authentic living, an infectious laugh and a hardy aversion to spiritual platitudes, Emma is a long term traveller, world adventurer and life-long student who has been channeling her passion into international retreats and residential Yoga Teacher Training programs for more than 10 years. A colourful past with a plethora of physical and emotional traumas has fed Emma's greatest fascination for…
Learn more about Emma Warmington