Pura Vida Yoga Retreat
With Sonja Engelhardt
November 28 - December 4, 2020
One week to deeply relax, surrender, tuning in and give back to yourself! 🙏✨
Are you looking for a little getaway to fill up your cup in beautiful surroundings waking up to the sounds of the nature doing Yoga every day? If that sounds like a dream to you share this beautiful retreat with us in the most magical place on this earth – Costa Rica!
I have been travelling to find the most perfect spot to host my own retreat and as soon as I arrived to El Sabanero I knew that I found it! There are two stunning outdoor Shalas where we practice Yoga with the most amazing views. Each lodge has everything you need plus a porch with your own hammock to relax in and read a book or just simply take a nap. Imagine yourself waking up in the jungle and breathing in the healthy pure air first thing in the morning, watching the monkeys climb on the trees (you can actually see them from some porches). We will make sure that you get healthy, healing, organic and of course delicious food (vegetarian) all week long. You get three meals a day and with each meal you have different options to choose from – everything is prepared with the most important ingredient – LOVE. And you will feel this while enjoying your food.
I will put all my knowledge that I was gathering since a few years in the fields of yoga and meditation together and create an unforgettable experience for you. We will try different kinds of yoga, so you can find out which style is YOUR style. There will be a bit more challenging practice in the morning so you can rise and shine and carry that yoga glow within you the whole day. In the evening we will practice a more gentle practice to really calm our nervous system, releasing tensions in our bodies and feeling what's inside of us. Most importantly with a gentle practice we are preparing for a good nights sleep to wake up every day well rested. Filling us up with all the self care and self love because YOU deserve it.
There will be different meditations in the morning or evenings and very special events. We will have a sacred cacao ceremony together, sharing circles and a sound journey to open our hearts and support you on your individual journey within.
During the day it's up to you.. You can enjoy whatever you long for: go to the beaches around, take a surf lesson, go shopping, take long walks in the beautiful surroundings, read a book in your hammock, give cuddles to the cats and dogs around, enjoy a dip in the pool and tan, have private yoga classes with me, go on an adventure (waterfall tours, ziplining, horseback riding, visiting the sloths in their sanctuary, seeing crocodiles from a boat, taking a sunset catamaran tour, trying out SUP yoga) or having massages. We have massage therapists coming to our lodges every day if requested. Moreover you can get massage at the beach.
If requested (must be at least 5 people) we can organize a plant medicine ceremony with an experienced shaman.
I lived with the stuff for one month myself. Everybody is warm hearted, super friendly and will do the very best they can to make you feel comfortable.
December is the best time to travel to Costa Rica. The rain stopped and you will experience the lush greens of the jungle. Costa Rica is showing itself from its best side! 🌱🌿🍃🌳🌴🎋
This is more or less our schedule:
Waking up, fruits and coffee/tea
7.00am Morning meditation/Silent Walk (on 3 Morning) & Pranayama (Breathwork)
7.30am Morning Yoga (either Vinyasa, Ashtanga, Hatha, Yin & Yang, Jivamukti)
9.00am Healthy breakfast
Free time
5.00pm Afternoon Yoga (Yin, gentle Vinyasa, restorative, Kundalini, slow soul flow, Sunset Yoga at the Beach, Full Moon Yoga)
6.30pm Dinner
8.00pm (on 3 evenings)/Sound Bath/Cacao Ceremony)/Shamanic Breathwork
We have two special guest teachers to give you the best experience you can get.
Of course it's always up to you which classes you wanna join. This is YOUR week and you do whatever is serving your needs best 😊
The ride to the closest beach Tamarindo is free every day. We will drop you off and pick you up. If you wanna go further, we can organize a ride for you and a good price.
Yoga, Mediation, accommodation, food, Airport transfer from/to Liberia Airport is included in the price.
Prices:
– Shared Single: 1000 Dollar
– Private: 1200 Dollar
– Shared Triple: 900 Dollar
Early bird until 31rst January 2020:
Prices:
– Shared Single: 900 Dollar
– Private: 1100 Dollar
– Shared Triple: 800 Dollar
You don't have to be an advanced Yogi or flexible, our classes are for everyBODY!
Bring a friend or come alone and make friends. We promise that you will leave with special memories that will stay forever in your heart ❤️
For bookings get in touch with sonjamaria.engelhardt@gmail.com or write a message on Facebook!
Instructor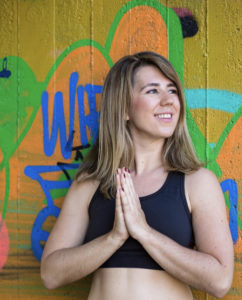 Sonja Engelhardt
Sonja is a certified Yoga teacher since 2018 and moreover a lover of life! She did her teacher training in Bali with a focus on Bhakti Yoga. Bhakti Yoga is the Yoga of devotion. She is very dedicated and devoted to her practice. She teaches Yin, Vinyasa, meditation and Hatha. She chooses to always be a student of what she loves, and to give as a teacher what she receives from others. Her classes are starting with a little meditation, followed by a warm up, some sun salutations and creative flows. She tries to always change things up and stays…
Learn more about Sonja Engelhardt