So(u)l & Luna "Connecting With Nature" Retreat with Kai Edwards in Tamarindo, Costa Rica
With Kai
March 17 - 24, 2024
Welcome to our 8-day Holistic Healing Retreat,
a sacred journey into the heart of nature, where the divine masculine and divine feminine energies converge in perfect harmony. Our purpose is to create a nurturing space where you can reconnect with the profound essence of your being, delve into the depths of your spirituality, and embark on a transformative quest to find your true purpose.
In the embrace of nature's wisdom, we invite you to rediscover your inner balance and align with the natural rhythms of existence. With the lush surroundings as your guide, you will embark on a profound journey of self-discovery, exploring the interconnectedness of mind, body, and soul.
Our retreat is a sanctuary for those seeking to rekindle their spiritual connection, deepen their understanding of themselves, and uncover the hidden treasures of their divine essence. Through holistic practices, guided meditation, sacred rituals, and communion with the elements, you will awaken your innate wisdom and unlock the potential within you.
As you immerse yourself in the serene beauty of nature, you will not only heal and rejuvenate but also find your purpose illuminated by the gentle caress of the divine feminine and the strength of the divine masculine. Together, we will co-create a transformative experience that harmonizes your inner and outer worlds, empowering you to live a life guided by your deepest truth and spiritual alignment.
Join us on this soulful journey of self-discovery and holistic healing, where the embrace of nature's wisdom and the union of divine energies will guide you toward a life of purpose, spirituality, and profound connection.
The retreat includes Airport transfers from Liberia Airport, daily beach transfers, Yoga two times per day, Meditation, 3 delicious vegetarian meals per day and all taxes.
For additional nights we charge a discounted USD 100.-per person with all the privileges as during the retreat.
The retreat is very much for relaxing and looking after mind and body and making friends with like minded people.
Yoga starts at 7am in the morning followed by breakfast. Lunch is at 1pm and the second yoga is at 5:30 in the afternoon followed by dinner.
Our free Beach shuttle runs at 10am, 1pm and 4pm.
There is lots of free time in between to go to the beach or one of the many excursions offered.
There will be excursions to local attractions (Volcano, Animal rescues, Zip Line, Catamaran Sailing and more…) offered at an extra cost which are of course optional.

What's Included in This Package:
Accommodations of 7 nights/8 days in a single, double or triple room
3 Vegetarian Meals per day
Tea, Coffee, Water
Full use of the resort and the beautiful Shala
Wellness Welcome Package
Airport transfers from the Liberia Airport are also included (these will be lined up once flights have been booked)
Daily beach transfers at 10am, 1pm and 4pm
2 yoga sessions per day (Vinyasa & Hatha)
Daily Meditations
Surprise Workshops and Activities
Beautiful Farewell Ceremony
All taxes are included
Electricity Outlets are the same as the US and Canada
Note about alcohol.  There is no alcohol served at our Yoga Retreat.  You do have a fridge in your room and there are local grocery stores that sell beer/wine/spirits.
Location:
Located within the 4 most popular beaches of Costa Rica, Playa Tamarindo, Playa Grande, Playa Conchal and Playa Avellanas.
The Hotel overlooks the Canafistula valley with beautiful views from all Chalets. You will not be disappointed.
Seasonal information
While the weather can't be predicted, it's usually nice and sunny without any rain from November until May.
June, July, and August Tropical showers can be expected but they usually pass quickly.
Sept and Oct is our rainy season and although there is lots of sunshine there will be clouds in the afternoons and rain can be expected multiple times a week in the evenings.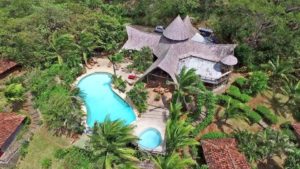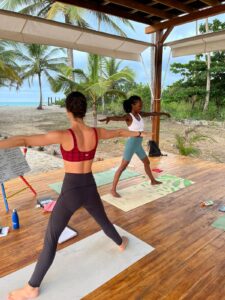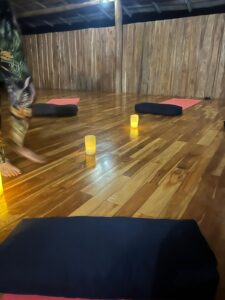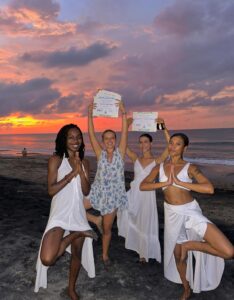 Electricity and outlets

Electrical outlets are the same as in the USA or Canada.

How to get there (flights, airport transfers, buses, trains)

It is best to fly into Liberia airport from where we will pick you up at no extra cost.

Visa stuff

No visa required but passport has to be valid for a minimum of 6 months.

What to bring

Passport: Valid minimum 6 months no visa required for US residents.
Light Clothing for warm/hot weather.
Bathing suits
Sunscreen
Bug repellent
Hair dryer 120 volts
Sandals for beach or pool and walking shoes for hikes.
Instructor
Kai
Namaste! I'm Kai, yoga instructor and certified holistic nutritionist, dedicated to guiding you on a holistic wellness journey. My mission is simple: to empower you to live your best life through the transformative power of holistic healing, nutrition, yoga, and spirituality.
Learn more about Kai