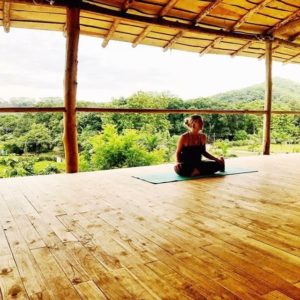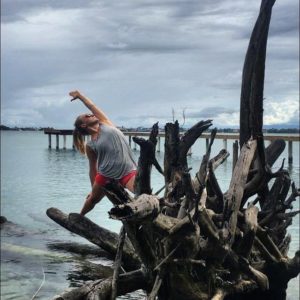 Sabine is one of our current yoga teachers at the lodge. Originally from Austria she started travelling the world in her early 20ies. When she landed in the land and home of yoga in india she fell in love with the practice its philosophy and the ancient healing techniques of it. A little town further up the Ganges called Rishikesh, also known as the yoga capital of the world, was where it all started and she completed her first 200hr Yoga TTC Hatha Style in 2014. She kept on learning and studying different paths including Yin, Restorative, Vinyasa and immersed herself in the practice of kundalini yoga for some time. As a life long student of this practice she participated another 200hr Yoga TTC in Guatemala 2017 which focused on Bhakti, the path of devotion which also included tantric elements.
On her journey she got the chance to dive deeper into various meditation techniques such as Vipassana (10 day silent meditation) as well as guided meditations, which she offers to our guests.
Coming from a background of energetical healing techniques (Pranic healing and Reiki) her intention is on providing a safe space for everyone.
The classes she teaches focus a lot around the connection of the physical, emotional and mental body, incorporating all that she learned in the past and all that she keeps on learning. She uses different yoga styles to calm the mind and connect with the infinite love that resides within.
Currently doing her Bachelor´s in Psychotherapy she always aims to go deeper into the structures of the mind, in order to calm and tame the monkey mind.
For Sabine yoga is a tool and a pathway to dive deeper into oneself, to reconnect to one´s essence and realize the limitless potential that lies within each and everyone of us.