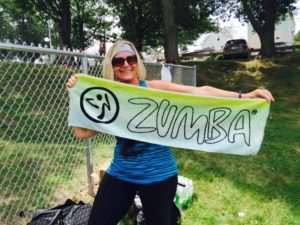 Deb McLoud is from New Hampshire in the USA. She has  been a dancer and a yogi for over 35 years. Deb took her first Zumba® class in 2011 and never looked back! She finds true joy in this Latin influenced dance fitness program that includes music and choreography from around the world. Every class is like a party! It is a format for all levels of fitness that Deb has been licensed to teach since 2014.
Deb's yoga journey culminated in 2017 when she joined the "Believe You Can" yoga teacher program and achieved her Yoga Alliance 200 Hour certification. "Believe You Can" focuses on rigorous Baptiste Yoga which Deb incorporates into a gentle flow.
Deb enjoys the positive energy of Zumba® and the peaceful flow of yoga. The cardio fitness, strength and flexibility are secondary to the mental resilience built through movement and music. She's looking forward to sharing these joyful practices with you!