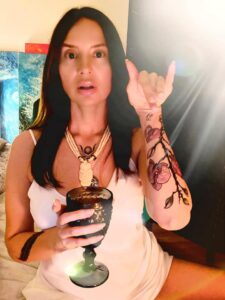 Hello, people of our beautiful Gaia
I would like to introduce myself and to say some words about my life and my mission on this planet. I hope you gonna like my story
My name is Eva, I was born in Russia. For more than 10 years I live in Bulgaria. Bulgaria became my second motherland. I love this country with all of my heart.
When I was 6 years old I understood that there is something special in me. I wasn't like other children. I was different from others. I talked with animals, trees and spirits of dead people, I saw auras of animals and humans, in my night dreams I had contacts with nonhumans from the other dimensions, astral creations, dark spirits, spirits of light, demons, angels… I was attacked by the dark side since I was a child, but nothing bad could happen to me because I was protected by the highest Spirit, the Spirit of my space family and by guarding angels…This protection is the strongest. Every night when I went to bed and saw the dreams it was like a journey to another dimension, actually it was. But was too small to understand it.
Years passed by. When I was 18 I started modeling , then I became a stylist, a psychologist, a designer of women clothing line, vegan nutritionist and even a vegan cook. I was in love for so many times, I broke so many hearts and my heart was broken to pieces so many times as well…
My life was full of interesting and sometimes dangerous adventures. Yes, I was getting my life experience with all the hardships and mistakes. I was loosing my relatives, people I loved, money, friends, relationship during my way. But every time after big losts I recovered very fast like Phoenix the bird and was ready for a new fight…And all my life I was searching for the answers. Who am I. And what's the fuck is going on here
…
I was changing, the world was changing, but my gift or my "curse " was constant. My "shining" was always with me. And each year it was getting stronger and stronger. Later on after years of fighting with myself, trying to live a "normal" life in Matrix, destroying myself and my soul, killing my "shining" and my body with all specter of low vibrations, dark energy, anger, fear and other disgusting things which everyone know about (because in our darkness we do all the same things) I finally understood that my "shining" was the gift of gods, not the curse. I accepted the fact that I am psychic, that I can work and manage with different kinds of energy. I accepted my strength and my inner power. And I started to respect my gift.
That was a time when I started to make changes in my life. I was awakened very fast. I started to heal myself…And I started to grow like a seed…
And that was the time when I've fist met with PLANTMEDICINE. It was 2019, this meeting changed my life completely. A SPIRIT showed me some of my past lives where I was a shaman, a nagual and a priest during the Mayan civilization has been existed. I felt so much power. I've got secret knowledges, I remembered who I was and it helped me to understand who I am know. It was my first and deepest initiation with plant medicine. I will never forget it. When I text this now I cry:)
Directly after that ritual I was absolutely sure that I need to start spreading the sacred knowledge around the world, I decided to organize retreats with plant medicine. I accept my mission to heal people spirituality and physically. And I loved it.
I created retreat center for healing, education and spiritual practices with plant medicine. Also I give psychological consultations by the prism of Tarot cards of New Age, heal people with Bees Reiki energy and help them to adopt plant based diet and vegan lifestyle. Since 2019 we helped many people to awaken from unconscious behaviors and harmful thinking patterns, heal trauma and emotional problems, heal anxiety and panic attacks, heal depression and insomnia. Through very effective indigenous practices with plant medicine participants of our retreats have been able to connect to the spiritual dimension and heal their confusion about Life and Self that inevitably contributed to human evolution. The main goal of my mission is to help create an Enlightened Planetary Civilization that will treat Mother Earth with love and reverence and co-create a better World for all living creatures inhabiting this beautiful abundant Planet.
I hope you will visit us one day. With all the bottom of my heart I trust that we are all connected and unconditional love will change this world and transform it to a better place for living for all of us. And it gonna happen very soon. Because we are the Gods and creators of everything. We just need to remember this.
Nobody will stop us. Because we are the light. And we are the power.
Aho mitakuye oyasin
P.S. Thank you, my friends, for reading this post till the end
thank you for your trust and the right perception and vision of my existence, my body and my soul
I love you