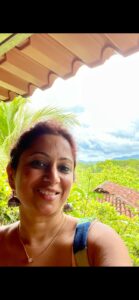 A student of meditation since 1999, she weaves Buddhist psychology, mindfulness practices, and neuropsychology into her work.
Had life changing evolution through Louise Hay's "Heal your Life" program in the year 2000 and discovered her passion for the world of alternative healing through an assistantship program for one and half years with "Heal Your Life Program Teachers/Organizers", working and growing with many participants through multiple workshops and retreats in that period.
Has been blessed with opportunities to learn from many spiritual Gurus, Vedic scriptures and teachings growing up in India and from global teachers since 2003 living in the USA. And has been blending in learnings, experiential work and teachings in both India and California since 2013.
Certified by Yoga Alliance – Yoga Teacher's Training one-month residential program (YTT 500 Hour) from Rishikesh, India in 2013.
And Yoga Teacher's Training for Pranayama & Meditation (YTT 200 Hour) from Rishikesh, India in 2019.
Has been fortunate to have come into the world of plant medicine since January 2020 and has ever since been merging Ancient Indian Sciences with Plant Medicine.
Her current passion and her life journey since 2020 has been in blending Yoga, Pranayama (Breathwork), Meditation, Chakra Activation, Mantra Chanting, Tantra, Ancient Indian Philosophy, Nada Yoga (Sound Yoga) & Plant Medicine for Deep Healing and Transformations.
She is also an apprentice of shadow work and weaves this into her sessions.
Neelima's motivation is to encourage you to Amplify the greatest parts of yourself, using ancient yogic technology, presented in a modern and accessible way.