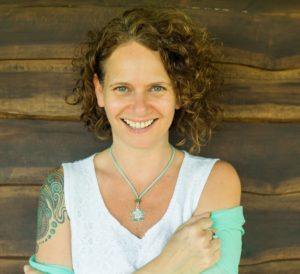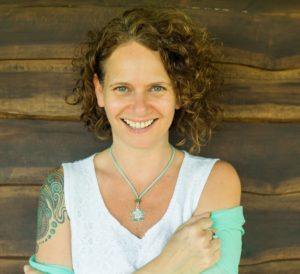 Emma is a Yoga Teacher Trainer, Transformational Voice Work Guide, Mindful Communication Coach and Women's Healing Arts Facilitator.
If there is such a thing as a typical yoga teacher, Emma is not it. A fiery Celtic spirit with deep passion for authentic living, an infectious laugh and a hardy aversion to spiritual platitudes, Emma is a long term traveller, world adventurer and life-long student who has been channeling her passion into international retreats and residential Yoga Teacher Training programs for more than 10 years.
A colourful past with a plethora of physical and emotional traumas has fed Emma's greatest fascination for this life's odyssey; the human animal's seemingly boundless capacity for healing and transformation.
For Emma, a life of travel including more than 10 years spent living in yoga communities in Asia led her to assist, support and co-teach immersive teacher training programs for 7 years before creating her own school, Jivani Yoga. Through her life affirming, experiential & transformative program, Emma has now certified over 200 teachers from more than 20 countries. A passionate teacher's teacher, she has developed a steadily progressive and highly effective method for training teachers and is currently offering both 200hr & 500hr Yoga Alliance registered courses in Thailand, Costa Rica and Northern Ireland.
Designed to build confidence, personal integrity and reveal raw authenticity, these programs and the dedicated team who teach them, encourage and support trainees in sharing their personal experience of Yoga whilst standing confidently in the power of their own unique voice.
As a student and practitioner, Emma continues to seek out the greatest teachers she can find and to date has accumulated over 2500 hours of accredited training with some of the world's best and upwards of 4000 teaching hours with students all over the world. A Senior Heart of Yoga teacher, Emma also holds certifications in Science of Chakra Yoga, Anusara-Inspired Yoga, Hatha Yoga (RYT500 from Anusara), Forrest Yoga (Advanced TT), Nada Yoga, Ancient Healing & Transformational Voice Work (Voices of Eden), Tao Tantric Arts (Mantak Chia's Universal Healing Tao), and has taken hundreds of additional hours of training with many notable teachers including extensive study of Body Mind Centering and Yoga Anatomy with Amy Matthews, Kirtan & Mantra with Dave Stringer and Sheela Bringi, and The Naked Voice facilitation with Chloe Goodchild.
Additionally, Emma is a Team Up Mindfulness Facilitator providing coaching and mentoring for individuals and groups in person and via Skype, and certifying as a TRE (Tension/Trauma Release Exercises) Provider.
In teaching Yoga, Emma guides her students with Krishnamacharya's Principles of Practice as taught by her most beloved and influential teacher, Mark Whitwell. These breath focused principles provide the foundation for all practices and are complimented by sound alignment cues, mantra, spacious support, self love, and the development of felt sense awareness as students come into a place of intimacy between their body and their breath. Deeply committed to passing along the gifts of this lineage, Emma's classes are essentially a seamless blend of Breath, Movement, Sound and Stillness.
A fearless and spirited voice work facilitator, enthusiastic kirtan wallah and crazy in love with sacred sexuality, Emma facilitates workshops, retreats and immersions programs with guest teachers amid the schedule of Teacher Trainings. She has a long history of practicing Emotional Freedom Technique (EFT), conscious communication, massage, tantra, meditation, qi gong, voice work, and silent retreats. This multidisciplinary approach has created a richly varied practice and a teaching tool kit that adapts to serve the individual and the ever changing nature of life. She is passionately dedicated to sharing these healing arts as a path to deeper intimacy in relationship, liberation in the body & mind, self-confidence, freedom from struggle in daily life and limitless personal growth.